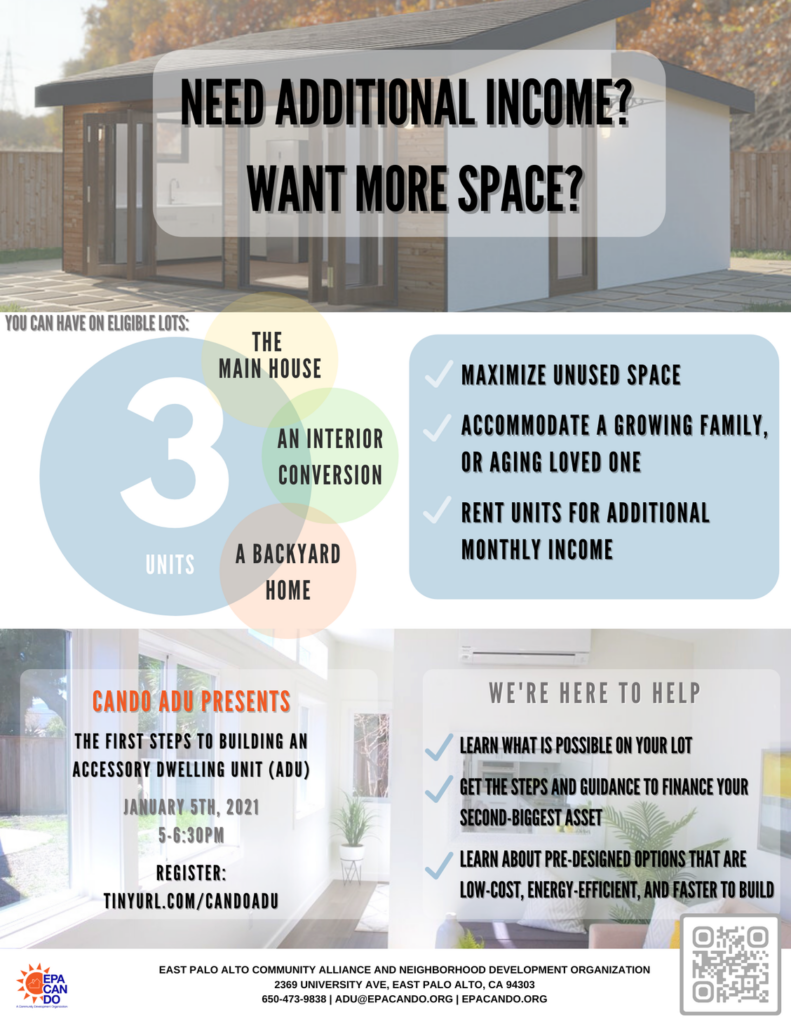 In 2020, state laws made it possible to have three dwelling units on one single-family property: the main house, a junior accessory dwelling unit (JADU) or interior conversion, and a detached ADU or backyard home.
In January 2021, we are launching the CANDO ADU Program, to help East Palo Alto homeowners get accessory dwelling units (ADU) on their properties – a housing and income opportunity for our community! We have spent the last years supporting work around legalizing unpermitted ADUs and starting a couple of ADU pilot projects on our own.
Join us and stay tuned for more from EPACANDO! Join the info session January 5, and visit our CANDO-ADU website pages.
En 2020, se aprobaron leyes estatales que permitieron tener tres undidas en un lote residencial unifamiliar: la casa principal, una conversión interior, y una casita trasera en el patio.
El 6 de enero de 2021, vamos a tener evento en línea para la comunidad de East Palo Alto sobre las casitas traseras, o ADUs en Español.
Ahora, el enero de 2021, lanzamos un nuevo programa llamado CANDO ADU, para ayudar a dueños de casa en East Palo Alto tener una casita trasera o, accessory dwelling unit (ADU) en inglés. Es una oportunidad de vivienda e ingresos para nuestra comunidad. Hemos pasado los últimos años apoyando el trabajo alrededor actualizando viviendas no autorizadas y comenzando proyectos piloto de casitas traseras, o ADUs por nuestra cuenta.
¡Acompáñanos y manténganse al tanto de EPACANDO para novedades!