Job Openings at EPA CAN DO
Current job openings
– part-time On-Site Supervisor (see below) or full JobPosting (PDF)
– full-time Program Assistant for the ADU and CLT programs. see  Job Posting (PDF)
Who we are
The East Palo Alto Community Alliance and Neighborhood Development Organization (EPACANDO) is a community-based, member-controlled non-profit. It was chartered to advance "progress" on the community's own terms, to assure that community members are the primary beneficiaries of that progress, and to demonstrate that residents who commit themselves to community well-being can thrive in place, and do.  Since its inception in 1990, EPACANDO has developed 350 permanently affordable rental homes and helped over 3,500 low-income residents gain or retain homeownership.
What we do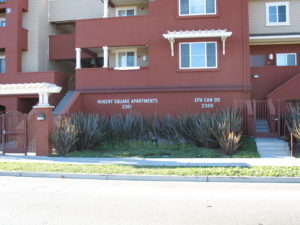 As mentioned above, we develop permanently affordable housing here in EPA, and we offer housing-related counseling.  This year we are launching or expanding two programs, one to help low-income homeowners build or install accessory dwelling units (ADUs) to help meet local needs for housing, the other to oversee and expand permanently affordable homeownership opportunities.
Part-Time On Site Supervisor Needed
EPACANDO owns and manages a 15-unit low-income complex located on Clarke Avenue in East Palo Alto, CA serving low-income residents. We are looking for a part time On-Site Supervisor.
Benefits:
$20 per hour – 25 hours per month
Candidate will be living on-site in an affordable 1 bedroom, 1 bath apartment (must meet requirements for tenancy)
Paid Time Off
Responsibilities:
On-Site Duties:
Report problems and unsafe or threatening situations to Property Manager
Learn lease rules/regulations and report any violations to Property Manager
Learn and follow written Property Management procedures and continually look for ways for improvement
Maintain accurate records (i.e. work order requests, property showing log, incident report log and tenant communication log)
Monitor, inspect and maintain all common areas (i.e. laundry rooms, carports, back yard, front yard, and trash enclosure)
Monitor and supervise onsite maintenance work and give daily progress report to Property Manager
Complete weekly and monthly reports, inspection reports from all buildings including laundry rooms and turn into EPA CAN DO Property Manager by due date
Let vendors into laundry rooms or units when tenant is not available
Report any maintenance problems to management in a timely fashion
Keep the garbage enclosure clear of any excess materials (mattresses, bulky items etc.) and let management know if inappropriate dumping occurs
Be knowledgeable in plumbing, HVAC—preferable but not required
Have some handyman work experience; changing light bulbs, fixing fences, painting, patching holes, etc.
Get vacant units ready for move in by quick turn-over
Landscape maintenance and tree trimming as needed
Be able to lift at least 20lbs
Any other related duties as assigned
Tenant Relations:
Be available for tenants if there is a problem onsite, and respond to residents' requests (i.e., lost keys, complaints about noise or parking)
Look for ways to improve resident satisfaction
Handout any and all notices from EPA CAN DO regarding tenants, and collect any and all forms from tenants and turn into the office
Collect maintenance work order requests from tenants
Give out applications to prospective tenants and show vacant units, as needed
Inform management of any and all resident disputes/conflicts when you know about them
If you're interested in the position please email Property Manager Gaby Anguiano-Hernandez at ganguiano@epacando.org for a digital copy of the application or you can schedule an appointment to stop in and pick up a hard copy at our office.