Staff
Our Motivated and Passionate Team
Duane Bay

Executive Director
As EPACANDO's Executive Director, Duane Bay returns to intensely place-based projects after five years of regional focus on housing, hazard resilience and equitable land use with the Association of Bay Area Governments (ABAG).
For eight years prior, Duane led San Mateo County's Department of Housing and Housing Authority.  In this and previous positions, Duane focused on building institution capacity for collaborative sub-regional problem-solving:  a 21-jurisdiction housing policy collaborative, housing trust fund, housing advocacy coalition and community land trust.
These projects built on Duane's local experience as a 44-year East Palo Alto resident, former city council member and mayor during a period of rapid development, resident displacement and cultural transition; and on capacities accumulated as a hurdler, winger, day care worker, middle school teacher, and early-stage executive in two tech start-ups.

Gabriela Anguiano
Administrative Assistant
Gabriela Anguiano grew up in a household of 7, with two brothers and three sisters. She was born in 1988 and was raised in East Palo Alto. She graduated from Redwood High School in 2006.  She completed a training course and obtained a certification in Office Skills at Job Train, Menlo Park in 2012. Upon completion of her education and before starting her management career, Gabriela spent 2 years as an Office Administrator for a small family-owned cleaning-service company in Redwood City, California. After a successful career in Maid Brigade, in 2016 she decided she enjoys assisting others, and joined EPA CAN DO, where she can work and receive satisfaction from helping families find comfort.
Gaby is the Property Manager for the EPA CAN DO property located on Clarke Avenue. She also helps people access housing and provides guidance in achieving that goal. With 14 years of experience in customer service, she derives satisfaction every month from seeing that clients benefit from her efforts.
Gabriela enjoys family life with her two daughters and husband , helping them through the rigors of today's world . She likes reading and writing poetry in her spare time.
Mele Heimuli

Outreach
Mele is a long time native of East Palo Alto, and a graduate of the Ravenswood School District, with a bachelor's degree from Notre Dame de Namur University in Business Administration & Communication.  Before joining EPACANDO, Mele had 25 years of experience in customer-service-relations for the construction industry, with specific interest in community development and housing. 
Her focus at EPACANDO is empowering individuals towards self-reliance, and facilitating opportunities for our residents to thrive.
When she's not working, Mele loves to spend time with her family and friends, meditating, and is an explorer at heart.
Iliana Nicholas

ADU program

Iliana came to EPACANDO shortly after graduating with a Master's Degree in Urban and Regional Planning from San José State University. She previously worked in the field of environmental justice in East Palo Alto around climate resilience and adaptation planning. She holds a certificate in Geographic Information Systems (GIS), also known as the art of storytelling through maps.
Iliana is a Program Associate at EPACANDO for the CANDO ADU program, a project aimed to assist East Palo Alto homeowners to get accessory dwelling units in their backyards. Iliana lives in East Palo Alto, and aspires to continue to be of service to her community.
In her spare time, she volunteers as a youth mentor, empowering youth to pursue higher education, engage in civic participation, and become agents of social change.
Jane Jones

BMR and ADU program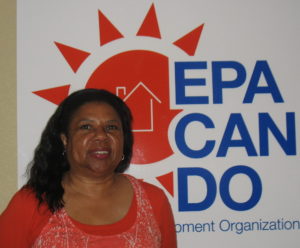 s

Jane Theresa Jones has been a resident of East Palo Alto for many years. She grew up in the Gardens area, a product of Brentwood elementary school and graduated from defunct Ravenswood High school.  She earned a Bachelor's degree from San Jose State University.  Jane has a passion for real estate, and brings a wealth of real estate experience and knowledge to EPACANDO.
After three years on the EPACANDO Board as directors' Secretary,  Jane joins the "CAN DO" staff in the role of Ownership BMR [Below Market Rate], and ADU [Accessory Dwelling Unit]  programs associate.
Her passions include serving her community as a member of rEPAct (formerly EPA CERT) Team, Macedonia Baptist church Trustee, Alpha Kappa Alpha Sorority, Inc., and Palo Alto Historical Society member.